Not tomorrow, but it may be possible to wave at 100 or 200 MP cameras in a few years. Samsung is designing a sensor with a resolution that exceeds that of the human eye.
Samsung doesn't seem happy with its recently announced 200-megapixel camera sensor, which would more than double the number of pixels in four years. While it has been proven time and time again that several megapixels don't necessarily mean a better picture (Apple and Google have already proven that you can take great shots with up to 12 MP sensors), Samsung deserves – just in the past – the attention.
Increasing the number of pixels within a sensor of the same size is a severe manufacturing and technical challenge, precisely because of the good enough separation of the pixels. This, of course, shouldn't stop Samsung from making up to a 576 MP sensor (which already surpasses the human eye's ability) by 2025, as the South Korean giant argues – technological constraints only motivate its engineers to innovate.
The 576 MP sensor designs were unveiled by a slide unveiled by Haechang Lee, senior vice president and head of automotive sensors at Samsung, at the SEMI (Semiconductor Equipment and Materials International) Europe Summit conference.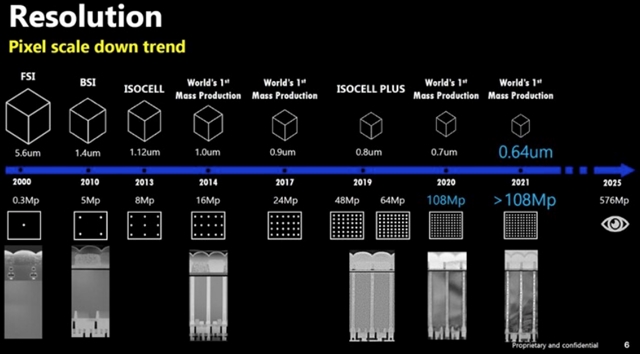 The timeline shows the company's ambition to have the 576 MP image sensor ready within four years. The fantastic resolution sensor would use the also recently announced ChameleonCell pixel stacking technology.
Now, it still doesn't seem likely that the 576 MP primary camera would appear in the top Galaxy phone at the time (Galaxy S25?), Much more likely to have such giant sensors in future self-driving cars.